Blackfords Lawyers join thousands at the London Legal Walk 2022
July 13, 2022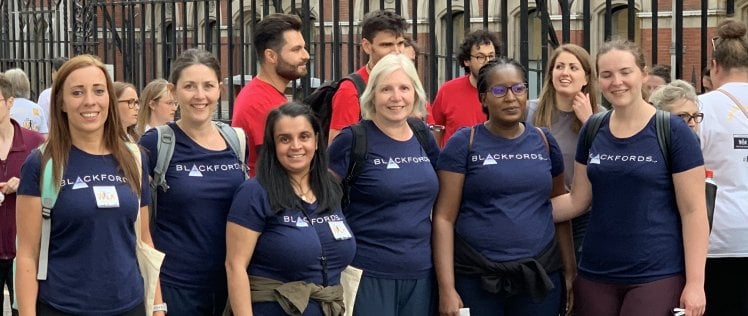 On Tuesday 28th June, we put on our company t-shirts, boarded the train to London, and taxied over to the Law Society on Chancery Lane to join over 800 teams in the London Legal Walk 2022.
Members of our Woking Family and Crime teams took to the streets of London to walk alongside thousands to raise money with the London Legal Support Trust for over 100 charities and not for profit advice and legal services who offer the most poor and vulnerable in our communities free legal advice and access to justice.
The team started off the evening by taking part in spin the wheel hosted by the Solicitors' Charity and posed for photos at the selfie station in wigs, hats and large glasses. The 10km walk took the team past the Royal Courts of Justice, along the River Thames, through Horse Guards Parade and St James Park, past Buckingham Palace, through Hyde Park around the Serpentine and back down the Mall along the Strand back to the Law Society. Essential walking supplies included candy kitten cherry and mango sweets along with ice creams from a café in Hyde Park along with laughter and essential team jokes.
At the end, the team joined the street party which served a variety of food and drink options including pizza and pasta and entertainment included stilt walkers.
It is great to hear that over £590,000 (and counting) has been raised so far.