Pre-nuptial Agreements in the UK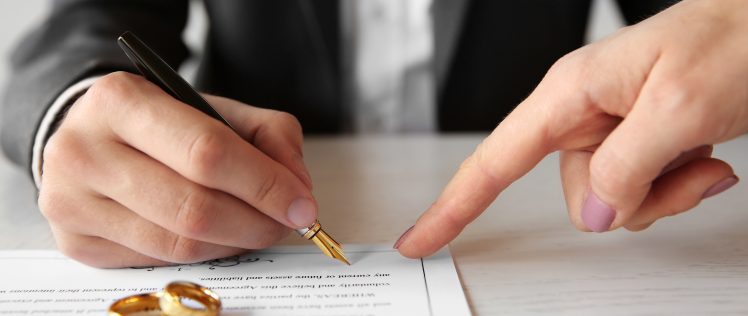 Concerned about pre-nuptial Agreements in the UK? A pre-nuptial agreement is an agreement that is entered into before a marriage takes place. The purpose of the agreement is to set out how property and assets are owned and how they will be divided if the relationship breaks down.
Many couples do not enter into a marriage on an equal footing in terms of their income and assets, and where assets have been accrued prior to the relationship, or where one party has inherited wealth, it is not unusual for a party to want to protect their position in case the marriage breaks down. A pre-nuptial agreement can, therefore, be useful in terms of setting out the position from the outset.
As the law currently stands, pre-nuptial agreements are not legally binding on both parties. If a divorce happens, a party is still free to make an application to the Court regardless of the signed agreement, and the Court can make a range of financial Orders irrespective of the pre-nuptial agreement. However, despite this, the law requires a Court to have regard to "all the circumstances of the case" and the pre-nuptial agreement will be a relevant document for this purpose, enabling a party to argue that what was originally agreed should stand.
A contractually sound agreement, drafted by a lawyer, with both parties having taken legal advice and exchanged financial disclosure will carry weight in terms of the Court process. For a Court to uphold such an agreement, several tests must be met, as follows: –
A prenuptial agreement must have been "freely entered into by each party" with no pressure from the other party. Both parties must, therefore, be able to freely negotiate the terms of the agreement. Ultimately, the prenuptial agreement may not be enforceable if there is evidence of mistake, misrepresentation, duress or undue influence present.
Both parties must have a "full appreciation" of the implications of entering into the prenuptial agreement. This means that both parties must have exchanged full financial disclosure, have taken independent legal advice and have intended for the agreement to be enforceable.
The agreement must be "fair" for the parties to be held to the agreement in the circumstances as they are at the time of divorce. So, if circumstances have changed significantly since the original agreement was entered into, the more likely it will be that upholding it will have unfair consequences to one party.
We can assist you with the process of entering into a pre-nuptial agreement. Please contact us for further information if this of interest to you.