Blackfords Family Lawyers Raise Money at Guildford Legal Walk
May 10, 2022
On Monday 9th May 2022, we laced up our boots, re-filled our water bottles and double checked we had packed the Maoam sweets, before heading over to Guildford County Court to take part in this year's Guildford Legal Walk.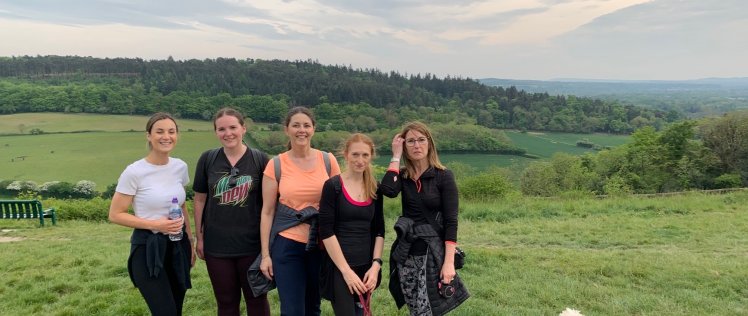 Five members of the Woking family team trekked 10km through the beautiful Surrey countryside in order to raise money for advice services in Surrey, who help the poorest and most vulnerable members of our county. The walk, led by former Resident Judge, His Honour Christopher Critchlow, began at 5.30pm at the blowing of the horn, and ended for our team at 7.30pm.
Throughout the walk, we were treated to perfect weather conditions and some truly stunning views. We also had two excitable canine companions to herd us through and keep us on track.
That evening we were told the fantastic news that a total of £11,000 had been raised so far for South West London Law Centres. South West London Law Centres work in partnership with Surrey's Citizens Advice services to prevent homelessness, resolve debt problems, gain care for the elderly and disabled and fight exploitation in the County. We know how short they are of the funds to continue that work, particularly as a result of the Covid-19 pandemic.
There are many poor and vulnerable people in the county who rely on help from the advice agencies. If you would like to sponsor our walkers, you can do so, as generously as you are able, through the following link: https://londonlegalsupporttrust.enthuse.com/pf/blackfords-llp.